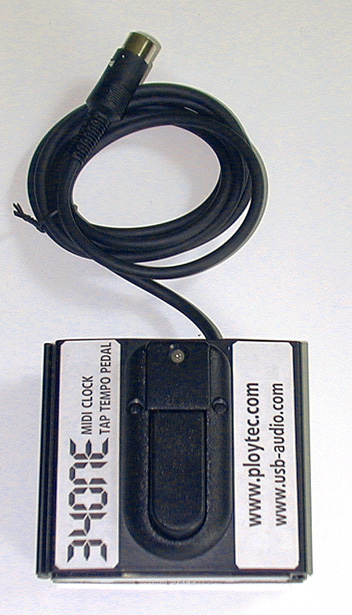 Tap tempo range 30bpm - 300bpm
Solid housing for live performance
Extremly accurate due to a RISC CPU
Compatible to almost any MIDI keyboard (e.g. Korg Triton, Roland Fantom and Yamaha MOTIF) or sequencer including software sequencers
Long 9V block battery life (>50 hours of operation, no energy consumption when switched off)

Tap tempo range 30bpm - 300bpm
Sync electronic instruments instead of drummers
Playing keyboard in a live band, it is sometimes a real problem to use sequences and arpeggios. The tempo is never exactly the same and it even slightly changes during a song because we're all humans. And basically there's nothing bad about that since those are the things making music being "live".
The 34one (three-four-one) tap-on tempo pedal enables you to sync electronic equipment to what's going on. You can even fine adjust the tempo while it's running. 34one notices that you're slightly ahead or behind quarternotes and gets your music back on the beat. It does so by smoothly accelerating or slowing down for a moment in order to get in sync.
Having this unique feature 34one is more than just tap tempo. It's a real problem solver.